Experimental and STEAM Projects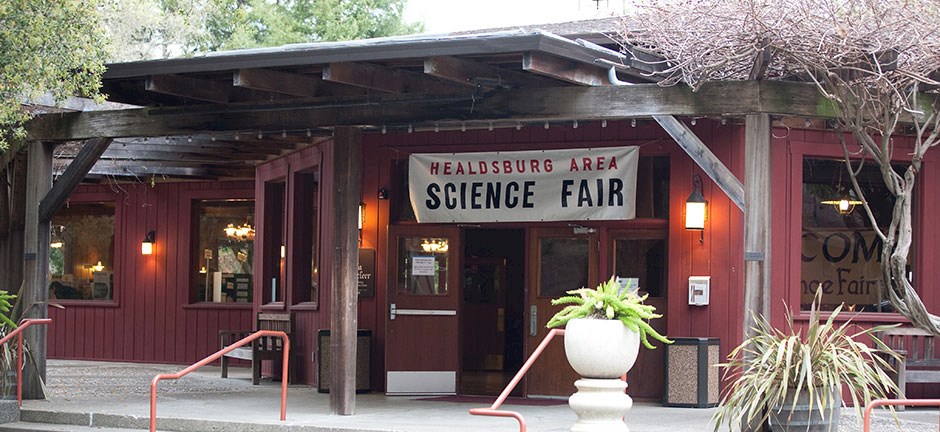 The Healdsburg Area Science Fair has a rich history dating back over 50 years. The competition is open to students of all ages between Kindergarten and Twelfth grade living in the area between Windsor and Cloverdale. In recent years this has included students from over ten different schools plus home schooled students.
The "Healdsburg Area Science Fair" term is used to describe a week-long series of events including...
Technology Day @ the Healdsburg Junior High on Saturday, March 2nd, 2019
"Maker Fair" style events for the whole family
Rube Goldberg machine competition for grades 6-8
Project Display @ the Villa Chanticleer for grades K-12, March 3rd - 7th, 2019
Experimental Project Competition (traditional 'Science Projects")
STEAM Projects
2019 Informational Packet - English
2019 Informational Packet - Spanish
2019 Informational Packet - English & Spanish
Online Registration - For faster registration, complete the online form in advance. If you cannot register online, no worries!, you may register on-site during project drop-off.
Bring your PROJECT to the Villa Chanticleer at 1248 N. Fitch Mountain Rd. 
Registration Dates:
Sunday, March 3rd, 2019 3:00 pm - 7:00 pm
Monday, March 4th, 2019 7:00 am - 9:00 am

You may work with no more than one partner. Group projects are judged in the grade category corresponding to the highest grade of the students (e.g., a 5th and 6th grade student work on a project together, the project is judged in the 6th grade group).
Experimental projects are placed and judged in one of the following:
LIFE SCIENCE: Plants, Animals, Human or Animal Behavior, etc.
PHYSICAL/EARTH SCIENCE: Chemistry, Physics, Geology, Astronomy, Computational Science, Mathematics, etc.
Remember:
The projects should involve students doing actual research into a question to which they do not know the answer. Investigations that involve observations and data gathering but not experiments are also appropriate. While collections, demonstrations of known information, models, etc., are good things to do, they are not appropriate for our Science Fair. The old baking soda and vinegar volcano demonstration or an insect collection would, therefore, not be appropriate.
Following is a diagram of one way to present a project.
Maximum height:48"
Maximum width: 36"
Please include: Question, Hypothesis, Procedure, Data, Results, Conclusion and photos/illustrations.
Many people will view your project, and be interested in your work and handle parts of it.  Adults are on duty while the Fair is open to the Public, but the Science Fair Committee cannot be responsible for loss or damage to your project or equipment.
You may get advice from your parents, teachers, and friends, but YOU MUST DO YOUR OWN WORK.
Your project may be up to 36" wide and no taller than 48".  It must be able to stand on the table by itself.  Do not put your name or your picture on the project where the judges can see it; place name on the bottom of the back side of exhibit.
You may not display a project that the Science Fair Committee believes to be unsafe.  Electrical outlets will not be available for any demonstration.   A maximum of 12v supply voltage of electrical power (battery) is permitted in active demonstrations.  Dangerous chemicals or drugs, open flames, sharp objects, explosives or apparatuses' with fast moving parts which may pose a safety hazard may not be exhibited.   The Science Fair Committee reserves the right to disallow a demonstration that they feel compromises the safety of people or property.
Live animals are not allowed at the fair, nor may animals be harmed in conducting experiments.
Projects involving illegal substances or ingestion of alcohol are not acceptable.
A major goal of the Science Fair is to encourage use of the scientific method.  Therefore your project must contain the following: 
Question (About something in which you are interested)
Hypothesis (Use if...Then statements)
Experiment (Test your hypothesis.  Use a control. Repeat or do multiple tests at the same
time)
Observation and Analysis (Results and Data)
Conclusion (Examine results) Remember it is ok if your data does not match your hypothesis.
Judging criteria:
| | |
| --- | --- |
| 5 | Question and Hypothesis: Does the project ask or pose a clear question and/or hypothesis? |
| 15 | Experimental Procedures: Does the project show the steps followed, the materials used, and how data was collected? |
| 20 | Observation and Analysis: Does the project show what information was collected, and observations made? Were written records kept? How is the information used to answer the original question (purpose)? |
| 15 | Conclusion: Does the student clearly state what s/he learned? Is there discussion of why things may or may not have happened as expected? How might it be done differently next time? |
| 20 | Creativity, Originality & Skill Level: Does the work show originality of approach and handling? |
| 5 | Clarity: Will the average person understand what the project was about? |
| 20 | Display: Is care evident in the preparation, mounting, labeling, use of data, etc.? Does the Project attract the viewer? |
| 100 | Total |
The judges are local people involved in science and engineering.  They work hard and study your projects thoroughly.  Your project is anonymous until the preliminary judging is finished. Do not put your name or picture on the front of your project. First place winners will be asked to meet a team of judges on Wednesday between 3:30 p.m. and 5:00 p.m. to review their project for "BEST OF GROUP" and "BEST OF SHOW" Awards.
Everyone who does a Science Project is a Winner!
You will have accomplished something, seen it through and learned from your results.  Everyone who enters receives a participation ribbon and a treat!

Best of Group
K - 5: $60.00
6 - 12: $100.00
First Place
K - 5: $30.00
6 - 12: $50.00
Second and Third Place, Honorable Mention
Various Cash Prizes and Gift Certificates
Dean Darby Award (Best of Show Runner-Up)
$75.00
John Max Award (Best of Show)
$150.00
 
Environmental Award
In order to promote an awareness of environmental issues and an interest in finding ways to resolve them, Sonoma Technology, Inc. offers an a cash prize for the Best Environmental Project, ie. pollution, waste management/recycling, global climate, noise, energy conservation, and alternative energy sources.

Mycology/Botany Award
Sonoma County Mycological Association awards a cash prize for outstanding projects in the fields of Mycology (Mushrooms & Fungi) and Botany.

All award winners will be presented at the Awards ceremony, Thursday at 7pm at the Villa.

Your project must be picked up between 4 - 8 p.m. Thursday at the Villa.
Projects left after the awards ceremony will be DISCARDED.
Ask yourself. "Can I test my hypothesis by doing experiments that I can manage myself?" If "yes" then you should be able to complete a good project. If not then you may become frustrated by confusing results. If you are inexperienced test a simpler hypothesis – you'll be amazed at how interesting a simple experiment becomes once you start observing the details.
Ask yourself "Is my topic something I am truly interested in"?  If yes then your project will probably stand out.
Start early – even if all you do is choose your project in January you'll be in good shape.
Get help.  Our goal is for you to grasp the scientific method.   Check out our Resources section for more ideas and information on making a great science fair project.
2019 Science Fair Dates & Times
DATES/TIMES:
Registration:
Sunday, March 3rd, 2019
3:00 PM - 7:00 PM
Monday, March 4th, 2019
7:00 AM - 9:00 AM
Public Viewing:
Wednesday, March 6th, 2019
9:00 AM - 6:00 PM
Thursday, March 7th, 2019
9:00 AM - 7:00 PM
Awards Night
Thursday, March 7th, 2019
7:00 PM - 8:00 PM
LOCATION:
Villa Chanticleer
1248 N. Fitch Mountain Road
Healdsburg CA 95448